Our agent is still trying to set up the Parents@Play TV show and action figures. Meanwhile, pretty much everyone else seems to have one (the Kardashians? Really?). Over the next few months we'll devote occasional columns to toys and games with TV and/or movie tie-ins. This week, we take a look at one character who's made the transition from small screen to big, and a family of characters who seem perfectly content—for the time being—with being on TV. Keep your eye out for dinosaurs, minions, superheroes, and more.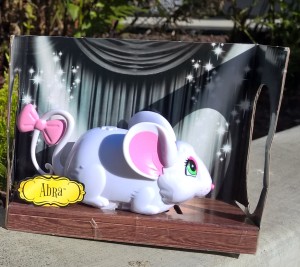 Amazing Zhus (Cepia)
After a brief hiatus, Cepia has brought back the much loved Zhu Zhu pets, and they're cuter, fuzzier, and smarter than ever. Cepia also expanded the Zhu Zhu family by introducing the pets' cousins, the Amazing Zhus, who will dazzle with you with jaw-dropping feats of magic. There are two types of Amazing Zhus: the hat-wearing magicians—The Great Zhu and Madame Zhu—and the stunt pets Kardini, Dynamo, Picadilly, and Abra. There's definitely a family resemblance: the Amazing Zhus and the Zhu Zhus are all adorable, they make cute sounds, the electronics and robotics are amazing, and they'll keep your child (and you) entertained for hours. The main difference is that the Amazing Zhus are hard plastic instead of plush. Both magicians come with a card trick and magic wand and retail for about $30. The stunt pets are sold separately or in multiples, each for about $13. Batteries are included. http://www.cepia.com/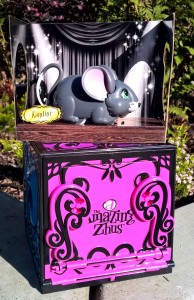 Amazing Zhus Magic Tricks (Cepia)
With the Amazing Zhus Magic Tricks, your child becomes the magician—and those stunt pets start earning their keep. The pets can jump off a high dive into a bucket of water 20 zhu-zhu sized stories below (that's about three feet for humans), perform a nail-biting, death-defying tightrope walk through a ring of fire, dance and spin on a circus ball, and vanish (and rematerialize) in a magical, disappearing box. The effects are clever and are easy enough for small hands to control. Plus, your preschooler will love the confidence and applause that comes from mystifying audiences. Each trick is sold separately and prices range from about $8 to $18. http://www.cepia.com/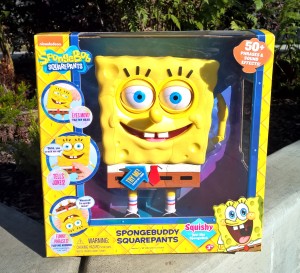 SpongeBuddy Squarepants (Nickelodeon)
SpongeBob's worldwide appeal—like the Kardashains'—still baffles us.  But there's one area where SpongeBob beats the Squarepants off of the Kardashians: he has his own movie, and a whole line of toys to go with hit. The SpongeBuddy, like the "real" SpongeBob, is squishy to the touch and will get you smiling (and sometimes groaning) no matter how hard you try to avoid it. His eyes and mouth move, he makes all sorts of sound effects, and he tells a variety of G-rated jokes. He's also wonderfully interactive. If you turn him upside down, he'll complain, and if you ignore him for more than a few minutes, he'll make a few sarcastic comments and then go to sleep—complete with snoring. He's available wherever you buy your toys for about $30.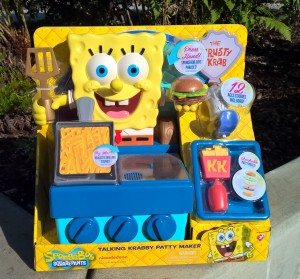 SpongeBob Talking Krabby Patty Maker (Nickelodeon)
Unlike SpongeBuddy, this SpongeBob is made of hard plastic. He's also not as talkative: most of what he does say is directed at the "tasty, juicy, scrumptious, warm, steamy" Krabby Patties. But he's still a lot of fun to play with. Besides a wisecracking sense of humor, he comes with 12 accessories, including a fry pan, grill that makes realistic sizzling sounds), a spatula, fries, and ketchup. And, of course, there are the stackable patty pieces which let budding chefs assemble their own Krabby Patties—with or without cheese.  All you need is some salt and a couple of AA batteries (included). Retails for about $25 everywhere.