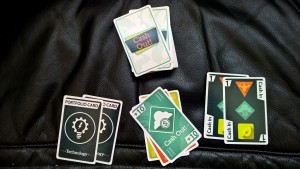 Cash Out! (SimplyFun, LLC)
Each player is a fund manager tasked with building a diversified, balanced, high-yield portfolio. The goal, of course, is to cash out with the most points. Along the way, you're buying, selling, and strategizing. Cash Out! Is a fun way to introduce your child (or yourself) to some basic investment concepts before he or she starts playing around with that college fund. Takes 20-30 minutes to play. For 2-4 players, ages 10+. $24. http://www.simplyfun.com/
For more toy and game reviews, visit Parents@Play.