In a word, everywhere (at least the little, plastic ones). If you've got a son, nephew, or superhero-loving child of either sex, you'll find that there are tons of toys to go with movie blockbusters, TV shows, cartoons, and even a few just because.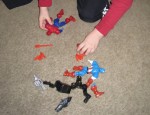 Marvel Superhero Mashers (Hasbro)
Why is it that so many superheroes seem to have multiple personality disorders? They want to save the world, but they're distraught and angry, filled with angst, feeling responsible and lonely, pushing people away, clinging to friends, and occasionally going off the rails (yes, we're talking about you, Spiderman). Well, now you can make your own disjointed (literally) superheroes by mashing them up with other heroes and villains. Take the head of Iron Man, the body of Thor, the legs of Hulk, and the arms of Dr. Doom and you've got, well, we're not sure. Prices range from $10 – $20 on http://www.hasbro.com or at your favorite toy retailer.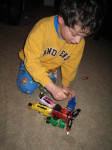 Power Rangers
Since they first appeared in 1992, Power Rangers have morphed through more incarnations than we can shake a stick at, if we were stick-shaking people. Two decades and nearly 100 Rangers later, the show is still going strong. The Power Rangers are an institution and they aren't going anywhere anytime soon. They're still making movies and TV shows, and our children and their friends look forward to the new toys as much as we and our friends did a thousand years ago. So, what's new in Power Rangers? Well, let's start with the Legacy Megazord who's celebrating 20 years of helping the Power Rangers saving the world. This latest Megazord has all the original details from the first toy, but beefs up the durability factor by using die cast metal pieces. The Megazord comes with a Ranger Key that can be used to open its chest. Good for collectors and fans of the current show alike. The Mystic Dragon Zord and Green Ranger set is also inspired by past seasons, and connects to other parts of the Zord Builder collection. Any four-inch figure or Power Ranger Key can work with the Dragon Zord. And the Legacy Megazord and Mystic Dragon Zord can be used together. Roughly $35 and $16, respectively, depending on where you buy them.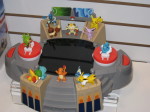 Pokemon (TOMY)
While we're on the subject of toys (and TV shows) that have been around forever, does anyone (or everyone) out there remember Pokemon? Ash and his lovable companion Pikachu have been fascinating kids for a while now on several continents, and the latest versions (inspired by the hit Nintendo video games) are Pokemon X and Y. This generation of Pokemon lets you go head to head with the older Pokemon you have already "caught" as well as the newest ones, like Chespin and Fennekin. Kids (and their adult wranglers) learn at an early age that you've "Gotta Catch "em Al.", And considering that they cost about $8 for a two-pack, that won't be too hard. Each two pack contains two two-inch figures and two "Attack Tags" for game play. http://tomy.com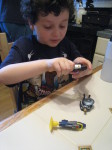 Captain America: The Winter Soldier (Hasbro)
With the new Captain America: The Winter Soldier movie recently coming out, kids want to act out the adventures (or perhaps misadventures) of Steve Rogers and the unfortunate Bucky Barnes at home. Hasbro has a line of 3.75 inch action figures to go along with the movie, complete with weapons, feature motions, and of course the famous shield. These figures are quite articulated and have weapons that fire actual projectiles. Additional accessories are sold separately. There are six figures in this line, $10 each. http://www.hasbro.com
Where Have All the Superheroes Gone?
was last modified:
November 11th, 2014
by