Black Friday and Christmas—and the shopping insanity that surround them—are just memories, but now may be the perfect time to fill in the gaps in last year's gift lists. And because of all the sales and clearances, you'll be able to take advantage of perhaps the lowest prices you'll see all year. Here are some of our after-the-last-minute picks.
Teenage Mutant Ninja Turtles Ninja Control Shellraiser (Playmates)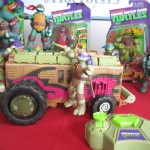 This new remote-controlled vehicle has all the bells and whistles and has been pronounced "so cool" by many a six-year-old. The Turtles action figures (sold separately) can really ride on it, and the fully child-controlled rapid-fire sewer-cover cannon is a blast for the kids (and their daddies). $49.99. http://www.playmatestoys.com
Peter Rabbit DVD and Gift Set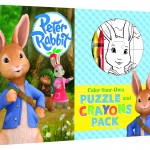 In case you missed it, those classic Beatrix Potter tales that you grew up with are now a hit TV series. The Peter Rabbit set includes full episodes from the show as well as activities to keep your own little bunny hopping. A great take-along for travel, snow days, sick days, and even a trip to grandma's. The included puzzle and crayon pack are perfect for keeping little hands busy instead of getting into trouble in Mr. McGregor's garden. $20.00.  Exclusively at Walmart.
Brush Pets and Glow Pets (Pillow Pets)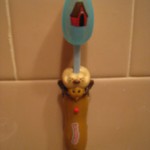 There's always something new going on at Pillow Pets. One of their latest is a line of six singing toothbrushes, made to look like the kids' favorites Pillow Pets. Brush Pets play for two minutes (exactly what your dentist recommends) and use fun sounds and silly instructions to keep the kids brushing. Brush Pets also come with a suction-cup "house" that attaches the brush to a wall and helps keep your vanity top clean. $7.99
Also new is the Glow Pets line. During the day, Glow Pets are regular stuffed animals. But at night, they can turn into the perfect, cuddly, after-dark companion—especially for a child who's afraid of the dark. Glow Pets do indeed glow (they use 30 LEDs that never get hot) and they shut off by themselves after 20 minutes. Requires three AA batteries. $20. http://www.PillowPets.com
DiscoRobo (TOSY Robotics)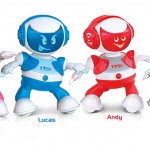 These cute robots use "beat detection technology" (bet you've never hear of that!) to feel—and dance along with—whatever music you're playing. DiscoRobo's got 56 separate moves (about 53 more than most humans) and eight different facial expressions, and looks like he's having such a good time that the kids (and you) won't be able to keep from joining in. Since it's probably illegal to sell a toy these days without a smartphone app, DiscoRobo's got one. It allows you to "chat" with your Robo and even customize his dance moves. Sounds silly, but so did Rock Band and Dance Dance Revolution, and look how much fun those are. Got a kid who loves to dance?  Or a shy one you want to encourage to come out of his or her shell? This will be a hit for them and the rest of the family. $45 at http://www.tosy.com/discorobo/
Still looking for something for the special lady in your life? Check out the retro jewelry at Jade and Jasper (http://www.jadeandjasper.com/). It's fun, funky, affordable, and easy to mix and match. If you'd prefer something a little more personal, Joseph Nogucci has lovely-yet-inexpensive jewelry that she's sure to love. http://www.josephnogucci.com/
Finally, be sure to check out the latest winners of the Mr. Dad Seal of Approval. New winners are announced four times per year and we're now accepting submissions for our Spring 2014 awards. Visit https://mrdad.com/seal.