School's out for most kids, which means they're probably going to be spending a bit more time with you than they do during the year. We're always on the lookout for activities that invite creativity, stimulate the imagination, and are fun enough that everyone in the family (including mom and dad) will want to come back and play again. One category of such crowd-pleasers is puppets. And this week we review some of our favorites.
Folkmanis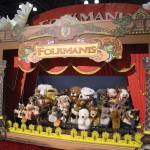 Folkmanis makes some of the nicest puppets around. They're the most lifelike, best quality, and come in a dizzying array of designs. Folkmanis range from the large, very articulated (meaning that they have lots of joints, not that they speak well) puppets that have mouths, wings, arms, legs, and so on, all the way to tiny puppets that fit over a single fingertip. And, as you might expect, they also come in a wide range of prices.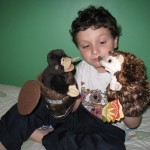 Starting at $8.50, you can bring home just about every species imaginable, and even some that aren't imaginable at all (like monsters) and put on an amazing show. This year Folkmianis introduced nine new "Little Puppets," or traditional hand puppets, including frogs, dragons, and unicorns. They're small in size but huge in play value, and they all have working mouths and hands. The larger puppets are, of course, more expensive. Some of this year's new entries are the Monkey in a Barrel ($22.00), Alpaca ($29.95), and the Sky Dragon ($44.95), whose moveable wings, arms, and mouth offer whoever is operating the puppet a great exercise in manual dexterity. There's something for all ages. http://www.folkmanis.com
Melissa and Doug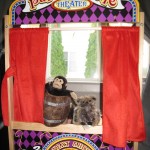 Melissa and Doug make a classic puppet theater ($78.00) that is one of the cutest we've seen. Kids will love putting on shows behind the red curtains, and they can even write the name of their show and list guest stars on the included chalkboard. There's also a clock with moveable hands that shows the time of the next performance. My 5-year old son was feeling quite proud of his puppetry skills and performance abilities. We haven't allowed him to take the theater out of the living room to his play room because he's playing to a sold-out crowd of friends and neighbors almost every night.
Melissa and Doug also makes a line of puppets, from princes and princesses, to pirates and more. The adorable dragon puppet has a silly forked tongue, big googly eyes, and a friendly, expressive face. He also comes with a removable stick in one arm that your budding puppet master can use to manipulate him (these range from $20.00 to $50.00) All ages, http://www.melissaanddoug.com
Educational Insights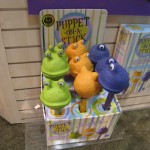 For a different, less-traditional take on puppets, check out Educational Insights' Puppets on a Stick. The original group of three ($25.00 for the set) are oversized, and are meant to inspire dramatic play with silly faces, movable mouths, and those googly eyes everyone loves. They move their mouths by using a small, easy-to-operate child sized lever near the bottom of the stick. This year's additions are The Sea Squad, which feature four different, brightly colored sea creatures, all sporting happy, goofy faces. Both the old and the new sets are cute, funny, interesting, and sure to bring a smile to any child or adult's face. But keep an eye on them. They're so adorable that in our house, they have a tendency to be "borrowed" by my son's playmates (and their parents). Ages 4 and up. http://www.educationalinsights.com
What Else Have You Got Besides Pinocchio, Gepetto?
was last modified:
June 14th, 2013
by