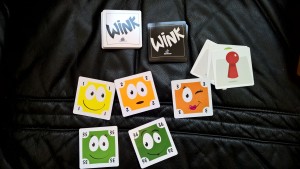 Wink (Blue Orange Games)
The goal of the game is for players to signal your secret partner (with a wink or some other gesture) without any of the other players knowing that you've connected. The rules imply that all the players have to agree on one gesture, but who says you have to follow the rules? The game play involves cards, tokens, matches, and accusations. However, the real fun is in trying to forge those secret partnerships. It takes only 20-30 minutes to play and is absolutely impossible to get through without laughing—which makes identifying those secret signals even harder. 4-8 players, 8+. $15.99. http://www.blueorangegames.com/
For more toy and game reviews, visit Parents@Play.