When you're hitting the road with the family, comfortable and occupied kids are quiet. And quiet kids make for a far more peaceful experience for everyone. Here are some new road trip accessories for kids of all ages to help you keep on truckin'.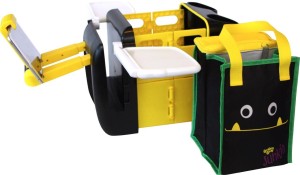 Junkie and Sneck (BubbleBum)
Junkie is a car organizer/activity station combo that keeps kids' stuff all in one place and your car cleaner. Just stock it with your children's favorite toys, harness it into the backseat, and you're ready to roll. There are two retractable trays, two cup holders, an insulated area for cold items, and plenty of storage for coloring books, snacks, crayons, and anything else you can think of. There's also a removable tote bag so you can bring your finished (or in-progress) projects into the house, hotel, restaurant, or wherever you're headed. Sneck is a travel pillow (microbeads on the inside, plush on the outside) that makes easy for kids to nap in the car. You can use the Velcro strap to attach it to almost any headrest and your child can then adjust it to the perfect spot. Sneck also has a small mesh pocket that can hold a small toy or electronic device. Junkie and Sneck are both available at https://www.bubblebum.co/us/  or most major retailers.
Necknapperz (Necknapperz)
Like Sneck, Necknappers are microbeads-inside-plush-outside neck pillows. But they're also adorable, cuddly stuffies that your kids will love to play with while they're waiting to board the plane or entertaining themselves in their car seat. When they get tired, a few zips and shakes and they've got a supportive U-shaped pillow that will minimize the stiff shoulders and necks caused by sleeping with your head flopping around. All 22 Necknapperz have snaps and are easy to attach to your (or your child's) luggage so they won't get lost. Retail for $19.99 at http://www.necknapperz.com/
EquiptBaby (EquiptBaby)
This portable bassinet is so small, you can fold it up and put it into your diaper bag. The outside is fine, see-through mesh that lets you keep an eye on your baby from any angle. Besides keeping bugs away, the mesh has an SPF 50 rating to protect your baby from the sun. The padded insert is machine washable, so post-diaper-blowout cleanup is easy. Setup takes literally three seconds (folding it back up takes maybe 10). For ages 0-6 months. $69.95 at www.equiptbaby.com
Kid-O-Bunk
If you've ever run out of sleeping space on a camping trip, grandma's house, or even a kids' sleep over at your own house, you really need to check out Kid-O-Bunk portable bunkbeds. They look a little like army cots, but they're smaller, come in far more attractive colors, and are much more portable. Setup takes just minutes, no tools, mattresses, or ladders required. You can also configure Kid-O-Bunks as a bench for daytime use, or as two single beds if you've got the space or the kids can't decide who gets the top bunk. Regardless of the configuration, they come with plenty of pockets that are ideal for holding books, glasses, pens, and—if you're allowing it—electronic devices. The material is machine washable, which is always nice. And they come in a zippered bag which makes storage and schlepping really easy. Recommended for kids up to age 12, each cot can hold up to 200 pounds, so weight (hopefully) won't be an issue. Tall kids, however, may have a little trouble fitting. Comes with two bunks, adapters for stacking, two carry bags, two organizers, and a set of footpads (to minimize ground sinking outdoors or floor damage indoors). $289 at http://www.kidobunk.com or http://www.cabelas.com/